One of the UK's most successful & dynamic entrepreneurs
From Brick Lane to Dragon's Den
James is the founder and CEO of Hamilton Bradshaw, based in Mayfair, London. The company was founded in 2004 and specialises in buyouts, venture capital, turnarounds, and real estate investment in the UK.
James knew from a young age that he wanted to run his own business. His father was probably his biggest influence, owning a successful leather goods manufacturing business which he hoped James would one day take over. He wasn't born with a silver spoon in his mouth and didn't have a private education. When he left school and went out on his own at 16, he had no money in his pocket. What he did have was a great degree of ambition coupled with self-belief, a strong desire to achieve and a powerful work-ethic; something he believes is imperative in any pursuit of success.
Business ventures
Employees
Events this year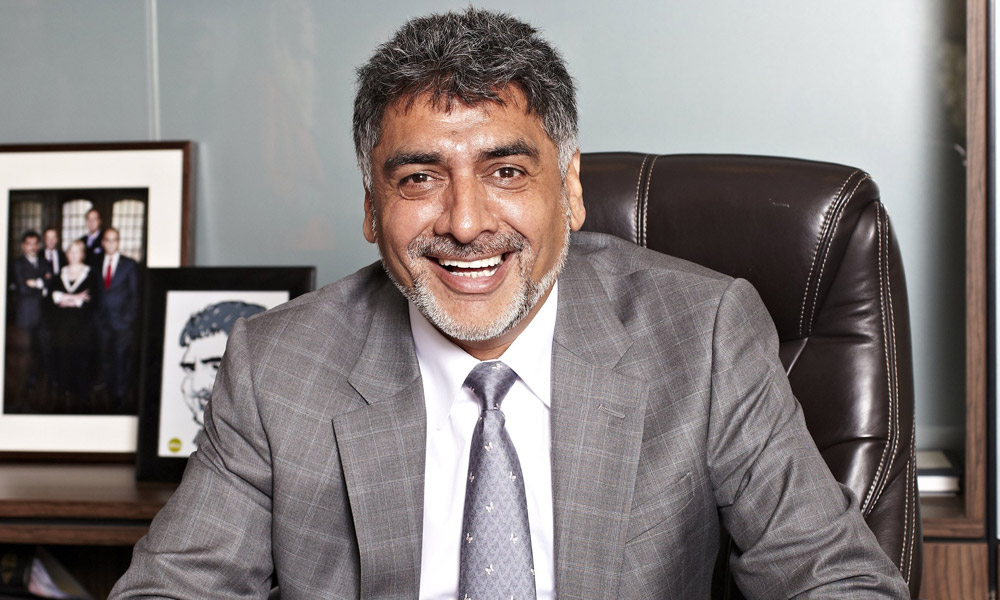 Slide image left or right:  James Caan CBE 2000 - 2018
One of the first interviews James got was for a job interviewing for a recruitment agency. He got it, and the position paid 30 pounds per week. Effectively, it involved cold-calling firms, ascertaining whether they had a vacancy, advertising that vacancy and then interviewing candidates to find the most suitable applicant. The more people he placed, the more money he earned. For James, this got his adrenaline going. After four years, he realised it was something he had a great deal of passion for. He decided to start his own recruitment business, and Alexander Mann was born.
The agency's prestigious Pall Mall location set the tone for the business that James would sell in 2002 for £95m. James then graduated from the Advanced Management Program at Harvard Business School in 2003, before starting recruitment investment firm, Hamilton Bradshaw. Now an industry leader, HB's portfolio turns over in excess of £500m.
James in 1998 at Alexander Mann, the start of his entrepreneurial career.
James in 1989 giving at training session on recruitment.
In 2007 James joined the panel of Dragons' Den, a hit BBC1 show where entrepreneurs pitch their ideas and hope to gain an investment. In his time on the show he made several high-profile investments including one that ended up being one of the most successful-ever pitches in the Den.
More recently, Sky News launched 'The Pledge', a weekly discussion programme staring James and a pool of nine other high-profile panellists. Each week five members of the team would appear on the show armed with an issue that they were passionate about. James debated everything from Trump to Brexit.
In May 2012, James was approached by the Government to become chairman of the Start Up Loans initiative; a scheme that would provide funding and support to small businesses in the UK. Originally the goal of the scheme was to help 1000 business obtain government and private sector investments to fund new ventures, however the scheme has helped provide funding and mentorship to more than 50,000 businesses.
James Caan receiving his CBE from The Duke of Cambridge; one of the proudest moments of his life.
As a figurehead in the UK, James was recognised in the 2015 New Year's Honours list with a Commander of the Order of the British Empire (CBE) for services to entrepreneurship and charitable services through the James Caan Foundation; a charity set up to support projects across the world that look at enterprise to provide people with a better future.
As for the future, James believes that the technology space is the one to watch. It is a high risk area for investment but has a high rate of return (if you get it right), so watch this space!
2003 – Graduated from Harvard Business School
2006 – Founded James Caan Foundation
2009 – Honorary degree from Leeds Met Uni in Business Administration
2010 – Honorary Degree from York St. John Uni, in Business Administration
2012 – Appointed Chairman of Start Up Loans
2013 – Chairman of the Year at International Business Awards
2015 – Awarded CBE